Juliette Beauviche, contemporary dance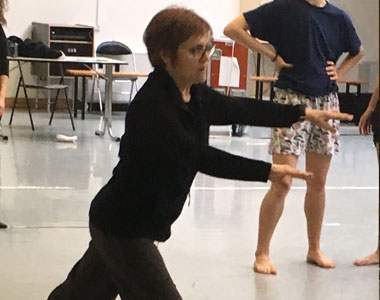 Juliette Beauviche,
Juliette Beauviche is a contemporary dance teacher at the CNSMD in Lyon since 2002.
She began her career as a professional dancer at the Heidelberg theatre in 1979, after studying classical dance in Lyon and in Monte Carlo with Marika Besobrasova. In 1980 she turned to contemporary dance, training with Peter Goss and at the National Centre for Contemporary Dance with Viola Farber.
As a dancer from 1982 to 2003, she was involved in various contemporary dance companies including those of Michel Hallet Eghayan, Pierre Deloche, Jean-Claude Carles, Véronique Ros de la Grange and Bernard Glandier. Since 1998, she has been an assistant to choreographers such as Véronique Ros de la Grange, Bernard Glandier, Abou Lagraa, Delphine Gaud and Yuval Pick.
A founding member of Le Creuset (Centre de travail du danseur professionnel), she was responsible for the educational programme between 1994 and 1998. The transmission of dance has always occupied an important place in her career. She has taught amateurs as well as professional actors and dancers. Different techniques of body awareness have nourished her work as a performer and teacher. In 2011 she is certified as a Somatic Movement Educator by The School for Body Mind Centering.