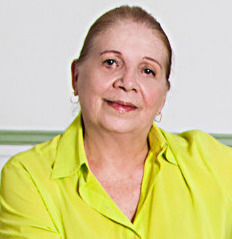 Educator, musician and composer, Carmen Mettig Rocha is the director of the Instituto de Educação Musical – IEM, in Salvador, a reference in human education through music for children, youth and adults in Bahia. She received her Certificate of Prėparation of The Child directly from Edgar Willems and the Willems® Professional Didactic Diploma from Prof. Jacques Chapuis.
Author of several books on music education, children's choir, piano, solfeggio and compositions, she is the representative of the Willems® Method in Brazil and is one of the vice-presidents of the Willems® International Federation.
Committed to the development of music education in her state, she was one of the founders of the Bahia Music Education Teachers Association, the annual meetings of musical experiences and the respected Bahia Choirs Meeting. She is a member of the advisory board of the Neojibá Project – State Centres for Youth and Children's Orchestras in Bahia, coordinated by the conductor and pianist Ricardo Castro.
Website: http://musicaiem.com.br/
Instagram: https://www.instagram.com/iem.musica/
Facebook: https://www.facebook.com/musicaiem/
YouTube: https://www.youtube.com/channel/UCT2vPibKnxMqUV9SxfkBTKw/videos