Willems® International Summer Course, Ljubljana 2022
From July 21st to 23rd 2022, the Willems® International summer course was held in Ljubljana. It was attended by teachers from Slovenia (32), Spain (5) and Italy (1).
10 candidates also took part in the preparation for the diploma, which took place in the days before the seminar; on July 19th and 20th they successfully passed the oral part of the exams in front of an international jury consisting of Béatrice Chapuis-Westphal, Javier O. Fernández, Franca B. Cividino, Ugo Cividino, Mateja Tomac Calligaris and Ivana Dizdarević-Djuričić.
The seminar was attended by training participants, graduated teachers who wanted to freshen up and upgrade their knowledge in the field of Willems® pedagogy, and other teachers who include Willems® teaching contents in their lessons.
The participants attended workshops on rhythm, melody, and harmony, as well as lectures in the fields of musical introduction, live solfeggio and instrumental lessons, led by lecturers Javier Ortiz Fernández, Ivana Dizdarević-Djuričić, Laura Cividino, Ugo Cividino, Franca Bertoli Cividino and Béatrice Chapuis-Westphal.
Each morning ended with a live music lesson: the final stage of musical introduction, live solfeggio and instrumental lessons on violin, recorder and piano.
Students from the Edgar Willems Music Center from Ljubljana participated in the lessons that were led by Mateja Tomac Calligaris, Una Košir, Laura Cividino and Rikardo Janjoš.
In addition to the workshops on Willems® pedagogy content, the participants also listened to a lecture on MNRI Tactile Integration, prepared by physiotherapist and Brain-Gym expert Marjeta Krejči Hrastar, and a lecture on contemporary music by Steven Loy, Slovenian composer and professor on the Ljubljana Academy of music.
The seminar ended with a concert performed by young artists Laura Calligaris on the violin and Andrey Ilienko on the piano.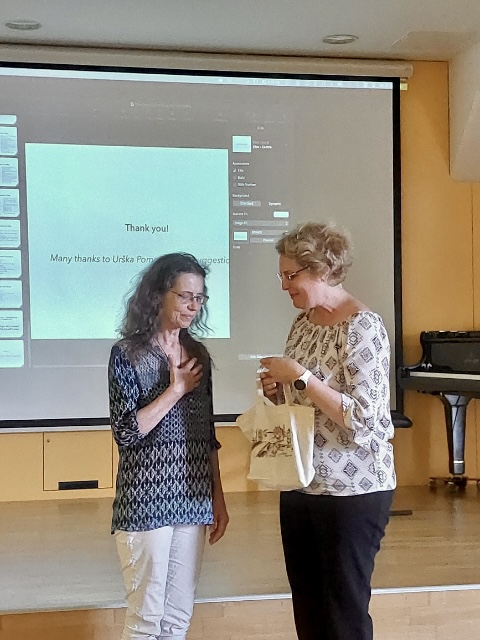 At the summer course, future graduates who are attending teacher training in Ljubljana have already started preparing for entering the final year of their education and graduation exams in 2023, and this october six new candidates have already started classes in the blue training cycle.