Véronique BOUILLOUX
Passionate about music since her childhood, in all its forms: violin, viola, ancient music, singing, choir, song, rock/metal, traditional music, oriental music… Very curious: she likes to discover, to immerse herself in various universes, to feel, to exchange and to meet through music. She is fond of ornamentation and improvisation: she finds in this a richness and a freedom in which she flourishes.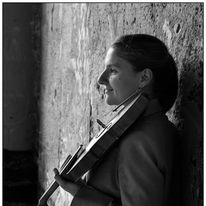 Specialised in early music at the CNSMD of Lyon, she plays in many ensembles and participates in various projects, including
She particularly enjoys teaching: as a music school teacher for 10 years, each student is for her an encounter, an exchange and a shared contribution. She has at heart to propose a thorough work in the respect of the rhythm of each one, so that the pupil can find there pleasure, comfort and quality.
She is very attentive to the posture in relation to the musical instrument in order to avoid fatigue and injuries and to be able to be at ease while playing (she has also carried out research, followed various training courses and written a thesis on this subject).
The "student" can be a young child, a teenager, an adult, a grown-up… contrary to what we often think, there is no age to start playing the violin or the viola!
She looks forward to meeting you at the Willems® International Meeting!