Before the music takes you to new horizons,
you have to land on our shore!
All means are good to reach us…
But where is it?!
Sites
The courses will take place mainly on the premises of the Maîtrise de la Cathédrale St-Jean-Baptiste de Lyon, supplemented for the plenary sessions by the conference room and the refectory for lunch at the nearby Institution des Chartreux (500 metres).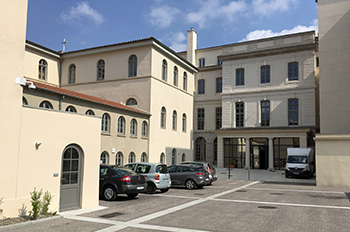 MAISON ST IRÉNÉE
Maîtrise Les Petits Chanteurs de Lyon
7 place St Irénée
69005 LYON (France)
A place dedicated to the musical training of the Petits Chanteurs de la Cathédrale de Lyon, with 4 spacious rooms equipped with piano, teaching, sound and audiovisual material.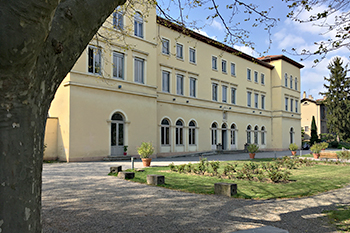 INSTITUTION DES CHARTREUX
Internat CPGE-CPE-Chartreux
10 avenue Debrousse
69005 LYON (France)
Annex of the Chartreux Institution with a conference room (100 seats) and a refectory.
TRANSPORT
->Transport is at the trainee's expense.
Airport-Lyon Saint Exupéry → Institution des Chartreux or Maison St Irénée
With public transport
1. Rhône-Express tram Lyon Saint-Exupéry airport → Part-Dieu SNCF station
2. Cross the Part-Dieu SNCF station towards the shopping centre, exit at Vivier Merle (allow 5 min)
3. Tram T1 – Gare Part-Dieu Vivier Merle > direction Debourg / stop Perrache
4. Bus line B46 – Perrache > direction Boyer / stop 1ère D.F.L. (for Institution des Chartreux) and stop Saint-Irénée (for Maison St Irénée)
5. Walk to Institution des Chartreux or Maison St Irénée
or
4. Bus line B49 – Perrache > direction Ste Foy Châtelain / stop 1ère D.F.L. (for Institution des Chartreux) and stop Saint-Irénée (for Maison St Irénée)
5. Walk to Institution des Chartreux or Maison St Irénée
Approx. cost: 18€ / Approx. travel time: 1h15
By taxi/VTC: Approx. cost: 65€ / Approx. travel time: 35 min
SNCF Part-Dieu Station → Institution des Chartreux or Maison St Irénée
With public transport
1. Tram T1 – Gare Part-Dieu Vivier Merle > direction Debourg / stop Perrache
2. Bus line B46 – Perrache > direction Boyer / stop 1ère D.F.L. (for Institution des Chartreux) or stop Saint-Irénée (for Maison St Irénée)
3. Walk to Institution des Chartreux or Maison St Irénée
or
2. Bus line B49 – Perrache > direction Ste Foy Châtelain / stop 1ère D.F.L. (for Institution des Chartreux) or stop Saint-Irénée (for Maison St Irénée)
3. Walk to Institution des Chartreux or Maison St Irénée
Approx. cost: 2,20€ / Durée du trajet approx. : 45 min
By taxi/VTC: Approx. cost: 20€ / Approx. travel time: 20 min
SNCF Perrache Station → Institution des Chartreux or Maison St Irénée
With public transport
1. Bus line B46 – Perrache > direction Boyer / stop 1ère D.F.L. (for Institution des Chartreux) or stop Saint-Irénée (for Maison St Irénée)
2. Walk to Institution des Chartreux or Maison St Irénée
or
1. Bus line B49 – Perrache > direction Ste Foy Châtelain / stop 1ère D.F.L. (for Institution des Chartreux) or stop Saint-Irénée (for Maison St Irénée)
2. Walk to Institution des Chartreux or Maison St Irénée
Approx. cost: 2,20€ / Approx. travel time: 15 min
By taxi/VTC: Approx. cost: 8€ / Approx. travel time: 10 min
By car
– There is no parking on the premises of the two training sites, but free public parking is available nearby:
> Google Maps Institution des Chartreux / Link
> Google Maps Maison St Irénée / Link
– Information on on-street parking – City of Lyon (5th arrondissement) / Link
CONTACTS AND USEFUL ADDRESSES